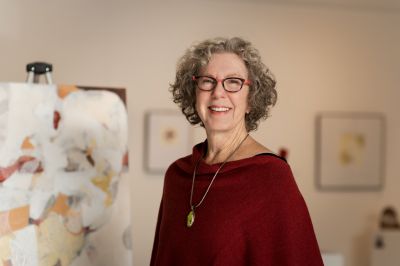 Colorado Springs based artist Carol Dickerson left a career as an academic librarian to pursue painting full time in 2012. Long intrigued by both abstract art and fine craft, Carol's goal is to create images that are beautiful or compelling without reference to real objects. Carol creates layered images of opaque and transparent acrylic paints, pushing a limted color palette within each piece. She may use crayons, charcoal, brushes, rollers, brayers, fingers, and stencils in developing the layers. The image that emerges is often a surprise.
Carol has studied with a number of Colorado artists including Chris Alvarez, Lance Green, and Karen Roehl, and participated in workshops led by New Mexico artists Gwen Fox and Virginia Cobb. She recently completed a year long online program with Nancy Hillis. Carol's work has been shown in group shows at Cottonwood Center for the Arts, Modbo, and G44 Gallery in Colorado Springs. In 2017, G44 Gallery and The Machine Shop hosted solo shows.
G44 Gallery will present a solo show of Carol's work from January 11 - February 16, 2019.